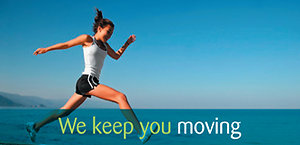 What is physiotherapy?

Physiotherapy is a health care profession which specialises in physical injuries which affect normal movement and human function. This may be from a condition that has developed gradually e.g. repetitive strain injuries or as the result of a specific incident e.g. car accident.

Chartered Physiotherapists specialise in musculoskeletal injuries which affect the joints, muscles, ligaments and cartilage. We utilise the basic sciences of anatomy, physiology and biomechanics in the assessment and management of our patients; ensuring the most effective treatment of your injury.


How can physiotherapy benefit you?

Physiotherapy aims to work with patients to treat their physical injuries and return patients to normal activity as soon as possible.


Our services:
Sports physiotherapy
Manual therapy
Neuro physiotherapy
Acupuncture
Sports Massage

We treat:
sports injuries
back pain
sciatica
neck pain/whiplash injuries
headaches
postural pain
shoulder pain
elbow pain
wrist and hand pain
hip and groin pain
knee pain
foot and ankle pain
calf pain
Achiles tendinopathy
hamstrings
fractures
postoperative rehab
preoperative exercise and advise
balance problems/falls
MS
stroke

Treatment modalities may include:
•Mobilisation and Manipulation
•Soft Tissue Techniques e.g. Massage
•Exercise Prescription
•Electrotherapy e.g. Ultrasound
•Acupuncture
•Pilates
•Postural Correction and Body Alignment


Invest in your health

Whether you are injured or healthy, investing in your health is one of the best decisions you can make.

We aim to provide you with a comprehensive, individual and goal-oriented treatment with a focus on hands-on manual techniques, therapeutic exercises and active participation in the rehabilitation process.
We will do our best to help you maintain a healthier, happier lifestyle.

Our commitment is to provide the very best of care to you and your family. All ages, all shapes and sizes, all levels of fitness. Everyone is welcome at Sports and Neuro Physio.